on Wed Apr 04, 2018 2:57 am
Message reputation : 100% (1 vote)
a.k.a. Green Lantern
Full Name:
Harold 'Hal' Jordan
Age:
27
Sex:
Male
Sexual Orientation:
Heterosexual
Occupation:
US Air Force fighter pilot
Alignment:
Hero
Affiliation:
Justice League
Universe:
Green Lantern
Elseworld:
Main Universe
Residence:
Coast City
Face Claim:
Armie Hammer
Player Name:
Oswald C. Cobblepot
---
Biography:
Born in Coast City, Hal Jordan was the middle child (of three) of Martin and Jessica Jordan. Along with his two brothers, he grew up in a family dedicated to aviation, his father, a military pilot, and his mother, a nurse with the Air Force base his father was working in. Despite being successful in his job, Martin Jordan never wanted his children to follow his footsteps; his brothers, Jack and Jim, followed that advice, but young Hal was intent on joining the military, which is exactly what he did the day he turned 18. Passing all the exams and trainings with flying success, Hal joined the Air Force like his father. 
Things went smoothly for years, but as life would have it, everyone's streak runs out at one point. Hal's streak ran out four years later, when he was 26. It was a year painted in tragedy, starting with a horrible plane accident that got his father killed and burnt to crisps. Due to a technicians fault, the plane was cleared to fly despite having a critical malfunction in the engine. Midflight, the plane went up in flames and crashed into a nearby hill. The body was never recovered. The blow was hard for the Jordan family, but it was not hard enough, obviously. Several months later, Jim, a prosecutor in Coast City, was killed by a member of the mafia family whose heads he had been prosecuting; soon after, Jack died in a traffic accident. All of these consecutive tragedies were too much for Hal's mother, who had been in a state of severe depression ever since Martin died. Hal was there, of course he was, but the only person she had left was not enough for Jessica Jordan. On Christmas Eve, that same year - she hung herself, leaving Hal Jordan all alone in the world. 
For a while, suicide was practically the only thing on his mind. He thought about the different ways he could kill himself. Luckily, he was too drunk most of the time to do anything about it. He had lost all hope in life. The Air Force kept him on their payroll out of pity, but he wasn't even allowed on the premises. He had no one but the cheap booze and even that was not an infinite fuel to keep him alive. 
During one of those nights, when he was drunk as a camel, practically delirious, he encountered something he thought was impossible. He was certain it was the alcohol; something like that could not be true. Yet it was. Abin Sur was real as the lot of them. And that night changed everything. That night started the legend. 
---
Characterization:
It is quite difficult to comprehensively analyze such a complex persona such as Hal Jordan. On one hand, he's a carefree, self-aware type of guy, (over)confident in his skills and demeanor. It seems as if there is nothing that could stop him in his tracks. That is why he was chosen as the new Green Lantern, because he was a man who can "overcome great fear", who keeps hope as a beacon somewhere inside him, regardless of how deep it is. The other side of his persona is a dark one, covered by a veil of tragedy and hopelessness that almost destroyed him at one point. Still, he never lost hope on the inside, despite being on the edge of the Abyss on the outside, thus showing the strength of character necessary for the duty he's fulfilling. 
---
Skills: When talking about Hal Jordan, one has to differentiate the human from the superhero. As a ''mere'' human, Hal Jordan is an expert fighter pilot, capable of doing the most complex feats while in his plane. Driven by the pain caused by his father's death, Hal channeled all the negative emotions into surpassing himself each and every time, up to the point that he can, practically, be considered the best pilot in the Air Force. He is also a skilled tactician and marksman; skilled in hand-to-hand combat, he owns a black belt in karate. 
As for the Green Lantern, his skills are dependent on the power of his Ring. He can conjure green energy constructs that can be utilized in a variety of situations. 
Weaknesses: Although being the protector of a whole galactic sector and practically fearless when donning the suit, Hal has kept a close relationship with his human side. That what makes him human is, basically, his biggest weakness. His fears and doubts, well hidden behind the green domino mask, if access can cause the the seemingly all-powerful galactic guardian to crumble under all those emotions his Ring is suppose to drive away. Also, his connections with his friends and family are a specific weak spot that can, if misused, cause serious harm. 
Equipment:
Green Lantern Ring
After his life changing encounter with Abin Sur, Hal Jordan became the new owner of the Green Lantern Ring for Sector 2814. After declaring the sacred Green Lantern oath, Hal Jordan changes his persona to that of the Green Lantern, using the ring to achieve exceptional feats.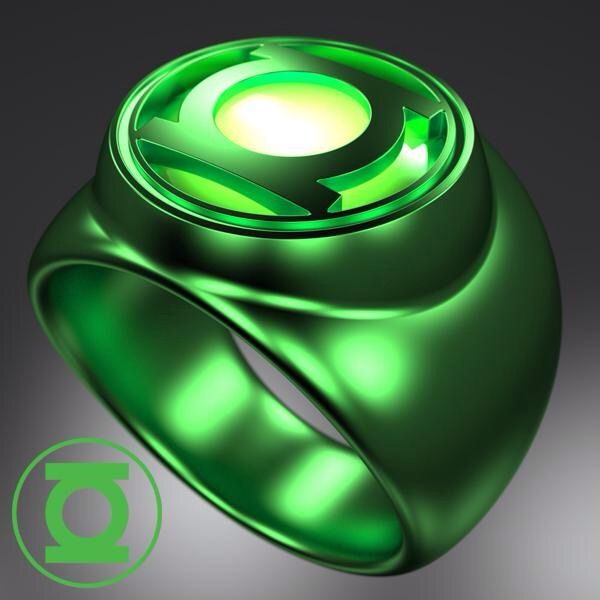 ---

Permissions in this forum:
You
cannot
reply to topics in this forum